Our Thirty Little Toes

- Colón Family
The Details
Wine Charms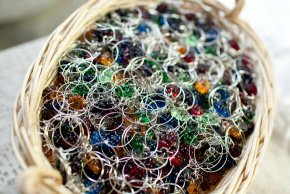 Living in an area of California known for fine wine, we wanted to bring a touch of home to our Pennsylvania wedding. We quickly settled on the idea of hand made wine charms, made by Sarah. There were 7 colors in total: Capri Blue, Amethysts, Tanzanite, Ruby, Prairie Green, Topaz, and Peridot.
Cake Topper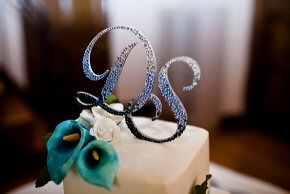 We liked the idea of a monogram cake topper, but Sarah had designed the "DS" that appears everywhere from the invitations to the welcome bags, so we wanted the topper to match. The only solution? To make the cake topper. The top layer is white Swarovski Crystals which Transition to Light Sapphire and finally to Montana Blue. Montana Blue is the same color used in the bridesmaids' jewelry.
Escort Cards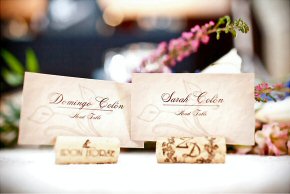 We wanted the escort cards to look like wine labels, so we gave them a slight texture and fadded the edges. We were able to incorporate the lilies in the cards, and used corks from California and Italian wines to hold up the escort cards.
Calla Lilies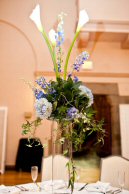 We couldn't include our cat Lily, at least not physically. So in order to pay tribute to her, we included the concept of Calla Lilies everywhere, from centerpieces to invitations. We even had a guest book page dedicated to our favorite ball of fur.
Cufflinks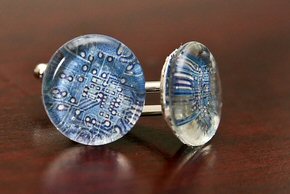 With all of the guys, and half of the girls into computer science, we needed to have a geeky element, even if it was something only we would notice. We opted for microchip cufflinks, made by Sarah. The Groom had silver, groomsmen had blue and fathers had black.
Bouquet Charm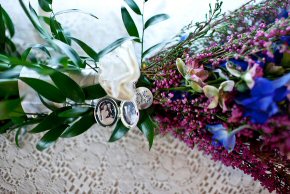 Sarah's Something Old/Something New/Something Borrowed/Something Blue was a bouquet charm she made. The Something old was a piece of her paternal grandmother's wedding dress made into a fabric flower to represent her family. For her something new, she used a piece of Spanish lace to be the top of the flower, and represent Domingo's Spanish heritage. She spelled out their initals in blue crystals for the something blue, and borrowed a white gold chain from her mom to wrap the charm around the bouquet. In the locket is a picture of both sets of grandparents on their wedding day.